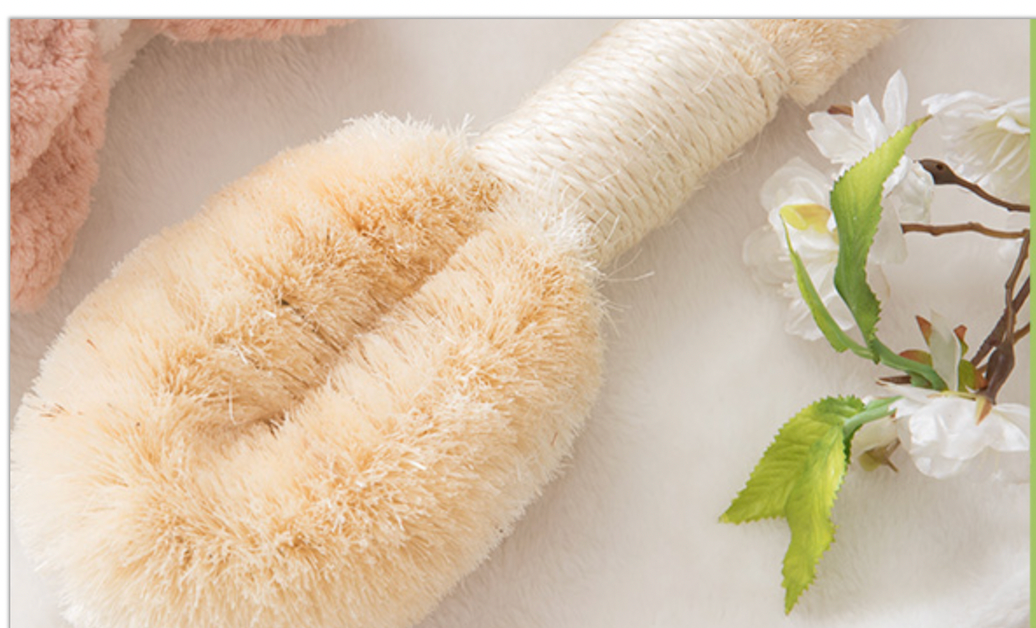 Dry Brushing | Japanese Sisal Cellulite Body Brush
Save

Liquid error (snippets/product-badge line 32): Computation results in '-Infinity'

%
Japanese Sisal Dry Brush:
"5 Best" Cellulite Removals - 2023 Dermatologist Recommends


Japanese all natural sisal body brush:
is used lightly and bi-daily for cellulite and circulation benefits. Renew skin while gently increasing blood circulation for your on going vibrant glow. Body brushing is optimal when your customers brush two -three times a week.  Truly the most effective cellulite remover.
Premium Dry Brushing Body Brush for Lymphatic Drainage and Cellulite Treatment, Boar Bristle Body Brush avaialable, Long Handle Body Brush available, Face Cleansing Brush for A Glowing Skin.
Regular dry brushing (two to three times per week) can help improve circulation, lymphatic drainage, and visibly reduce the appearance of cellulite.
Benefits:
The natural exfoliating power of Sisal will improve blood flow, improving the removal of toxins from your skin and energizing your body from head to feet.

*Sisal products are 100% natural, highly sustainable and Eco-friendly.
*The gentle act of brushing your skin with a dry brush benefits your body and mind beyond simply beautiful skin. 
*Cellulite growth is broken up from daily light brushing for the objective to direct blood circulation where cellulite is noticed.

Brush Quality:
Prepare your companies purchasing personnel for an array of sisal manufactures outside the US. Inspect several samples before making a decision for your company's investment. It is important to test these samples by washing, drying, and brushing. Inspect the sisal bristles. Look for a luscious white off-white bristle color. Be sure the handle of your brush is supported with a rope-like material. Avoid material consisting of thin layer of wicker or imitation rope. 

Natural Sisal Dry Brush:
Can be used for a wet massage, to revitalize and stimulate circulation, opening the pores of  your skin to let them absorb more oxygen, while providing a deep cleansing for healthier and younger looking skin. It is also helpful to fight and prevent ingrown hairs.

Beauty Tips:
Eating a clean diet and drinking at least a half gallon of purified water daily supports the effort of body brushing significant results are
* maintaining wellbeing
*improve circulation
*exfoliate and smooth skin
*detoxify your body
*offers a calming stress relief 

Skin Types:
Our brushes can be used on all skin types, anti aging, benefits of Sisal dry brush, brush, cellulite, dead skin cells, detox, dry brushing, energizing, exfoliate, good circulation, handmade, healthy immune system, Jute bristles, lymphatic system, natural jute brush, natural jute fibre, new to dry brushing, quality, remove stagnation, remove toxins, renewed skin cells, revitalizing, smooth, smooth skin, thin skin, unisex, women's health Bath & Body

Directions for Dry Body Brushing:
Ideally, brush daily-butt don't turn it into a chore. Remember you only need about 5 minutes of brushing before a shower.
Body brushing works best with strokes that are directed towards the nearest lymph node. Keep in mind, your main lymph nodes are in the groin area and the front of your armpits.

For Feet:
start at your soles of your feet and gently brush from your toes toward your heel. Then on top of your foot, brush from your toes and to your heel on both sides.

Legs:
Starting from the ankle, brush in sweeping upward strokes from the back of your leg to the front. Brush both the inside and outside of your legs, continuing unto your groin.

Buttocks & Back:
brush from the top of your buttock in a circular sweep down to where your buttocks joins your leg, then round the front toward your groin. 

Brush Care:
As your body brush will accumulate the dead skin cells from daily dry body brushing, it is important to clean your brush regularly. 
Wash your brush in hot water regularly with an antibacterial soap, shake out excess water and hang to dry in the sun. 
Never leave your brush soaking in water or in a damp environment. 
Japanese Sisal Brush origin:
It is made in a town smaller than the town Yuyao. The town name is Yiwu. Yuyao and Yiwu are up in the countryside mountains about 60 miles from Cixi.
Yiwu is where the wood for the handles (lotus wood) are delivered from the forest of Yunnan China. The Bristles are imported from Mexico to Yiwu.

Sample:

lead time is 7 days


Lead time:

Each dry brush is made to order. Production time is 12 -18 days for your bulk Japanese sisal dry brush order.
All orders are door to door. All duty, import taxes, import documents included
Order direct 

PH. 305-399-3317